core_allocator Class Template Reference
Inherits
allocator_base< T >
.
Inheritance diagram for core_allocator: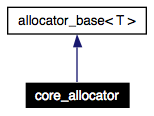 List of all members.
---
Detailed Description
template<typename T>
class macstl::core_allocator< T >
Core Foundation allocator.
Puts the Standard C++ Allocator interface on Core Foundation allocators.
This lets you use CF allocators to allocate memory for STL containers and C++ objects. Wrappers of distinct CF allocators are distinct instances themselves.
Parameters:
Header:

#include <macstl/core.h>
---
Generated on Mon Jan 31 12:18:02 2005 for macstl by
doxygen
1.4.0