mach_allocator Class Template Reference
Inherits
allocator_base< T >
.
Inherited by vector_base< macstl::mach_allocator< T > > [private].
Inheritance diagram for mach_allocator: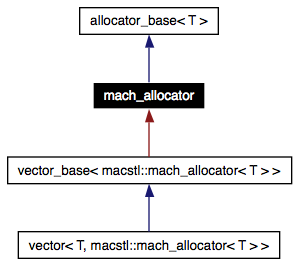 List of all members.
---
Detailed Description
template<typename T>
class macstl::mach_allocator< T >
Mach allocator.
Puts the Standard C++ Allocator interface on the Mach VM allocator. This is the fundamental allocator on the OS X system, whose main characteristic is that it allocates pages "lazily" i.e. memory is not actually allocated until it is accessed. Also allocated memory is always page-aligned and zero-filled.
This lets you use Mach allocators to allocate memory for STL containers and C++ objects. All allocator instances are not distinct and compare equal.
Parameters:
Header:

#include <macstl/mach.h>
---
Generated on Mon Jan 31 12:18:02 2005 for macstl by
doxygen
1.4.0