literal_term_base Class Template Reference
Inherited by
literal_term
, and literal_term< Term, typename enable_if< exists< typename Term::const_chunk_iterator >::value >::type >.
Inheritance diagram for literal_term_base: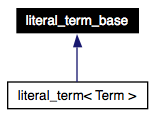 List of all members.
---
Detailed Description
template<typename Term>
class stdext::impl::literal_term_base< Term >
Base for literal term.
For internal use only.
This base defines all common types and functions for both chunked and unchunked literal terms.
Parameters:
Note:

This term does not actually store its subterm, but uses the subterm type to figure out how to chunk the single value.



Public Types

typedef literal_iterator<
value_type >
const_iterator
Iterator to access elements.

typedef Term::value_type
value_type
Element value type.




Public Member Functions

const_iterator
begin () const
Gets an iterator to the first element.

value_type
operator[] (std::size_t) const
Gets the element at the index. Since this is a literal, all elements are the same.

std::size_t
size () const
Gets the number of elements. Same as the subterm size.

---
Generated on Mon Jan 31 12:18:02 2005 for macstl by
doxygen
1.4.0