random_access_container Class Template Reference
Inherits
reversible_container< Cont, ConstIter, Iter, Size >
.
Inheritance diagram for random_access_container: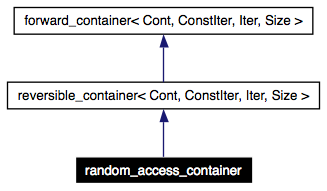 List of all members.
---
Detailed Description
template<typename Cont, typename ConstIter, typename Iter, typename Size>
class stdext::impl::random_access_container< Cont, ConstIter, Iter, Size >
Random access container model.
For internal use only.
Uses CRTP to flesh out a random access container. Given the iterator and size type, and a defined begin, end and size member functions, define the rest of the members of a random access container.
Parameters:

| | | |
| --- | --- | --- |
| | Cont | The container. Should be the subclass. |
| | ConstIter | The iterator to access the elements. |
| | Iter | The iterator to access or change the elements. |
| | Size | The size type. |
---
Generated on Mon Jan 31 12:18:02 2005 for macstl by
doxygen
1.4.0