statarray Class Template Reference
Inherits
statarray_base< T, n >
.
Inheritance diagram for statarray: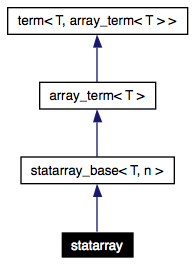 List of all members.
---
Detailed Description
template<typename T, std::size_t n>
class stdext::statarray< T, n >
Fixed-size numeric (n-at-a-time) array.
This class is similar to stdext::valarray but has a fixed size through a template non-type parameter. This makes the class useful for auto variables, since it will not touch the heap and thus improve locality of reference and construction speed.
Parameters:

T
The value type, which shall satisfy the following requirements:

not an abstract class, reference type or cv-qualified type
if a class, must publicly define: default constructor, copy constructor, destructor and assignment operator
Default construct + assign == copy construct
Destruct + copy construct == assign

For example, built-in arithmetic types like char, short, int, float, double.
n
The number of elements.
Header:

#include <macstl/valarray.h>
---
Generated on Mon Jan 31 12:18:02 2005 for macstl by
doxygen
1.4.0